How to Use the Manuscript Viewer
The manuscript viewer displays the images and text of the manuscript Marciana Gr. Z. 11 (379). It provides a diplomatic edition respecting the formating (line breaks, colors, etc.) of the manuscript. It is possible to select between two versions of the text: diplomatic and normalized (available only for Greek and Arabic for the moment).
the "diplomatic" version corresponds to a transcription of the text that follows as closely as possible the spelling and other characteristics of the manuscript.
the "normalized" version corresponds to a text that has been normalized and standardized for the reader. For the Greek, we have normalized e.g. the nomina sacra and some accents (mostly breathings); for Arabic, we have added diacritical points when they were missing or misplaced.
The differences between diplomatic and normalized texts are visible in both views and can be displayed by running the cursor over the line.
For the time being, it is possible to display one transcribed column next to the corresponding image or to display two text columns in parallel by clicking on: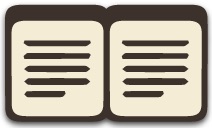 (in the top right corner).
Don't forget to click on the image-text button: 

Each text line will be linked to the image.
For some folios, you can also activate the HotSpot button:

Folio details are highlighted and described.
The features of the manuscript viewer will improve over time, we will keep you informed! For any questions regarding the usage of our viewer, use the forum or contact us!
→ the manuscript viewer is based on the EVT software. Check the EVT blog for more information!

 ⇒ Questions? Discuss on the forum How to Use the Manuscript Viewer.